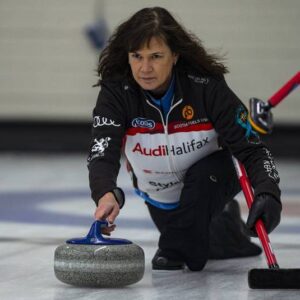 14 time NS Provincial Champion
5 time Canadian Champion
2 time World Champion
5 time Canadian All-Star
2 time Canadian Olympic (2001 & 2005)
Canada Cup Champion
Canada Cup Participant (2003, 2004, 2005 & 2009)
2 time Continental Cup Champion
3 time Continental Cup Participant (2002, 2003 & 2004)
2009 & 2014 Players championship
2014 Canadian Mixed Doubles Championship
2007-2013 Instructor at CCE Summer Curling
Mary-Anne was born in Toronto, ON and raised in Moncton, NB. While participating in every sport in season, it was curling she discovered was her passion.
Playing second and skipped by Colleen Jones, Mary-Anne and her team went on to win five Canadian Championships and two World Titles. They won the prestigious Canada & Continental Cups. Mary-Anne was selected five times to the Canadian All-Star team. They were inducted into the Nova Scotia Sport Hall of Fame in 2011.
Mary-Anne is currently offering the following services:
Video Analysis re:

Deliver

y
Video Analysis re: Sweeping
Sport Psychology Basics – Specific to Curling
Team Dynamics – Preparation, Communication, Fixing a "broken" Team
Delivery Analysis



Mary-Anne will evaluate any singular or whole part of your delivery.
2 iterations included

Detailed Analysis
Sweeping Analysis



$49
Mary-Anne will evaluate any singular or whole part of your Brushing Technique.
2 iterations included

Detailed Analysis